Bitcoin was unable to breach the key resistance levels around $23,000. As a result, the cryptocurrency has been moving sideways over the past couple of days while maintaining some of its gains over the past week.
The slowdown in the bullish momentum coincides with an increase in liquidity requests (sell orders) for the price of BTC above its current levels and a surge in BTC supply flows on crypto exchanges. On the shorter time frames, there are over $70 million orders to sell bitcoin from $23,000 to $24,000.
Related reading | Cryptocurrency Market on the Rise: ApeCoin Offer Gains and Curve DAO
It appears that these levels are set to continue acting as resistance while the price of Bitcoin continues to rise. BTC was in the immediate area of ​​$23,100, but data from Material Indicators records $18 million in sell orders at that level alone.
As seen below, BTC price is seeing less liquidity below its current levels with significant liquidity gaps at key levels. This could indicate high volatility to the downside if BTC continues to lose momentum and is unable to breach $24,000 in the short term.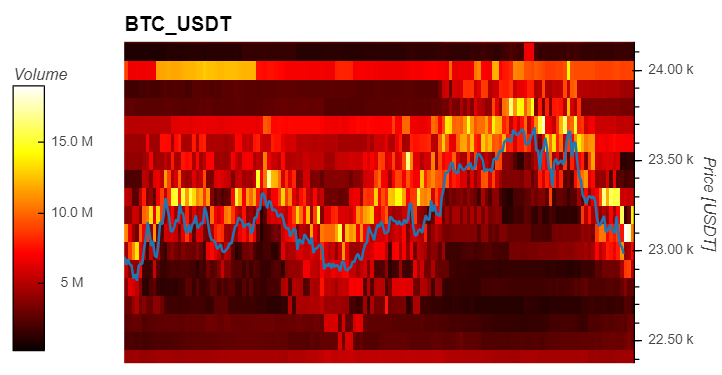 In addition, Material Indicators are reporting an increase in selling pressure from investors with sell orders in excess of $100,000. These investors have been accumulating BTC over the past week and have been exerting a significant influence on price action.
As the chart below shows, these investors (in purple below) have started selling in the current price action. In these time frames, it seems too early to conclude whether this trend will continue and whether it will have a negative impact on the price of BTC.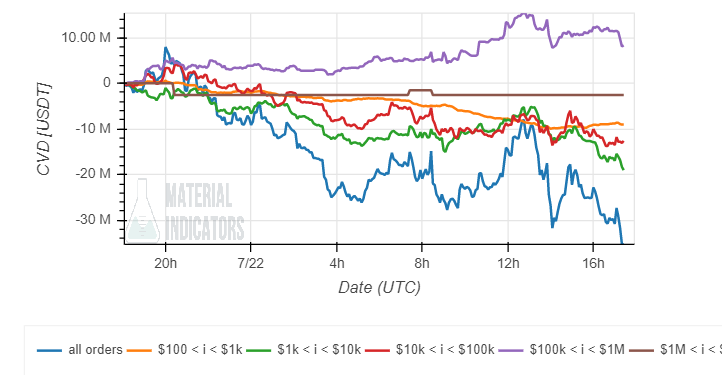 Analyst Ali Martinez agreed With the above data. Via Twitter, Martinez showed data on rising selling pressure from BTC whales and miners with addresses dropping by more than 1,000 BTC and a 1% drop in Bitcoin held by addresses linked to miners.
High Bitcoin Supply on Exchanges, Does It Indicate More Weakness?
More data provided by Ali Martinez records an increase in Bitcoin held by cryptocurrency exchanges. This scale is considered bearish as BTC is dumped into the market often.
Related reading | Ethereum Shows Signs of Exhaustion, But Could It Hit $1,700?
The analyst said that since July 12, there has been a surge of 27,000 BTC, or $621 million, sent to these places. Martinez commented the following on these metrics:
The increase in open interest combined with lower network growth and higher selling pressure from whales and miners suggest that the recent bitcoin price movement is being driven by leverage. These network dynamics increase the likelihood of a sharp correction.