Did you know there is a simple way to get more attention to your online storefront while boosting customer satisfaction and loyalty? Adding a blog to your e-commerce site can make a huge difference in your visibility and help expand your brand and messaging. Additionally, since WordPress is naturally a blogging platform, adding one to your WooCommerce store isn't a big deal.
Five reasons why your online store should have a blog
1. To display your products
A blog is a great way to showcase your products in action and prove their suitability to potential customers' lifestyles. You can write posts explaining what your products do, why they are useful, and what problems you solve for your audience.
Nine out of ten first-time visitors will not make a purchase on your site, so providing them with detailed information that might make them spend more time or entertaining them with exciting content that will keep them coming back for more, is a proven way to build trust and brand recognition.
A blog can also be a place to share news, so people can look back on important moments in your company's history and feel like they lived the journey with you. Then you can share headlines from important events on social media, but ask people to click through to read the full story on your site. While they're there, they might end up doing some shopping too!
Consider using your blog to:
Post announcements, overviews and past stories of your latest products
Alert potential customers to current sales and discounts
Manuals catalog for installation or configuration
Share unusual or interesting applications of your products
Discuss key issues in your industry and educate your customers about why certain features are important
Answer Frequently Asked Questions About Advance Purchase
In addition to their gift catalog, World Vision has a top-notch news feed that shares moving stories and useful information about their work around the world. It helps build their brand for new visitors and showcase how donations are used, as well as keeping their audience informed of new issues and business causes.
2. To enhance customer loyalty
Repeat customers are the heart of your business. Earn their loyalty by providing continued value in the form of blog posts.
How can you do this? One way is to feature a client every week or month. Share information about them, how they make a difference, and the ways they use your product. This not only makes that person feel special, but also shows others how people use and love the items you sell.
Another way is to provide constant tips and tricks for using your products. Show that they have more than one purpose and can make their lives better in many different ways.
Oysters XO is using her blog to take food to the next level. Their blog posts suggest ways to incorporate their products – oysters of course! – In special dinners or daily meals. Plus, they offer tips for experts and novices alike.
3. To prove your expertise
A blog is the best way to showcase your expertise. It doesn't always have to be about selling – prove to your audience that you care about their problems or that you really have the same feelings as they do. When people find themselves constantly turning to you for answers to their most pressing questions, they will trust your recommendations and the products you endorse as well.
Showing your expertise can also help you connect with others in your field. The more interesting and detailed information you provide, the more others in relevant fields will come to you for advice or as a reference for their clients. This can lead to guest posts and backlinks on other sites, speaking opportunities, guest appearances on podcasts, and more — all of which can grow your customer base and boost your bottom line.
Demonstrating your authority on your own blog is great. Getting praise and endorsements from other well-known bodies in the industry is invaluable.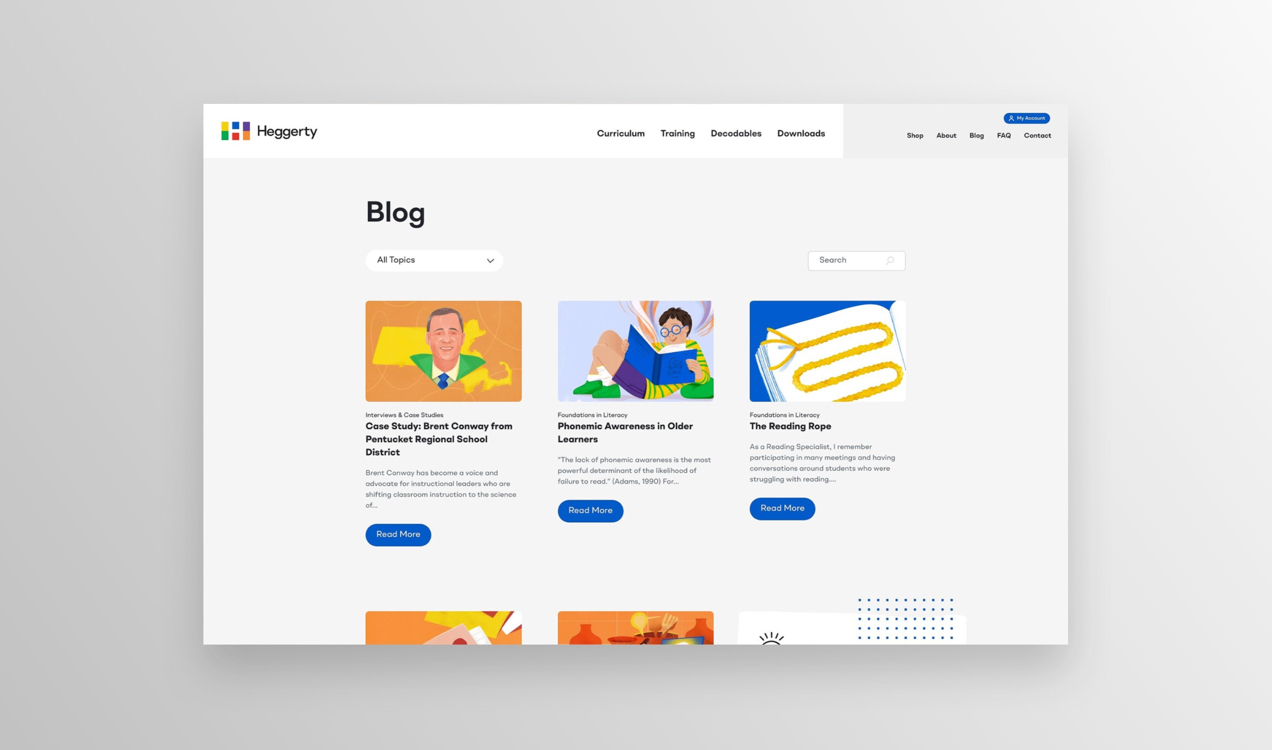 Heggerty specializes in training and materials for learning to read, specifically from a phonics approach. Many visitors are not quite familiar with the concept that Heggerty offers, but they will be after a while on their blog!
They make the idea of ​​specialized language and reasoning accessible to beginners, but they also offer topics that more advanced audience members will appreciate.
And while doing all this, they are showing the power of their products and increasing their credibility to potential customers. When it comes time for your visitors to make a purchase in this category, who else will they turn to?
4. To increase your search engine rankings
Search engines love blogs because they love fresh, high-quality content. If your website has barely changed since its launch and you are wondering how to improve organic traffic, rolling out new content that researchers will find valuable, interesting and informative is a great step forward.
Blog posts can help you:
Building internal links. In your posts, you will naturally link to the products you refer to and other articles on your site. These internal links help search engines understand which pages are most important and what your site is.
Targeting long tail keywords. These are detailed search terms such as, "Best organic lawn fertilizer for winter in New York State" which although it sees fewer searches per month than something like "lawn fertilizer," is easier to categorize. Write posts that answer very specific questions and you may reach the highest rating for these terms!
Receive more backlinks to your site. The more great content you have, the more likely someone will find it useful and want to link to it on their own site or social media profile. Backlinks are considered by search engines as an endorsement of the quality of your site, and thus can help you move up the rankings!
Increase user sessions and engagement. If your visitors come back more often and stay longer, search engines will determine that you are providing a good experience and you will be more likely to share your site with other users by moving you up in the rankings.
The Shop Catalog shares lists of resources on specific topics, such as books for new parents, poetry readers, or astrology enthusiasts. With their great use of keywords and their ideal content for target audiences, they help search engines see what they have in their WooCommerce store, and help shoppers find what they need – which is a win.
5. Build your own library of social media content
Regular social media content connects with new shoppers and attracts existing customers. If you are working on showing off your brand on Facebook, Instagram, Twitter or Pinterest, you are always looking for great content to share that your followers will appreciate and appreciate.
As you build a library of articles that only your audience is searching for, your job on social media will become easier. Never-ending information—such as gift guides, how-to articles, or customer profiles—can be shared multiple times a year. In addition, the more you share your content on social platforms, the more likely it is that those posts will be re-shared by other brands and your customers, spreading your name and attracting new site visitors more broadly.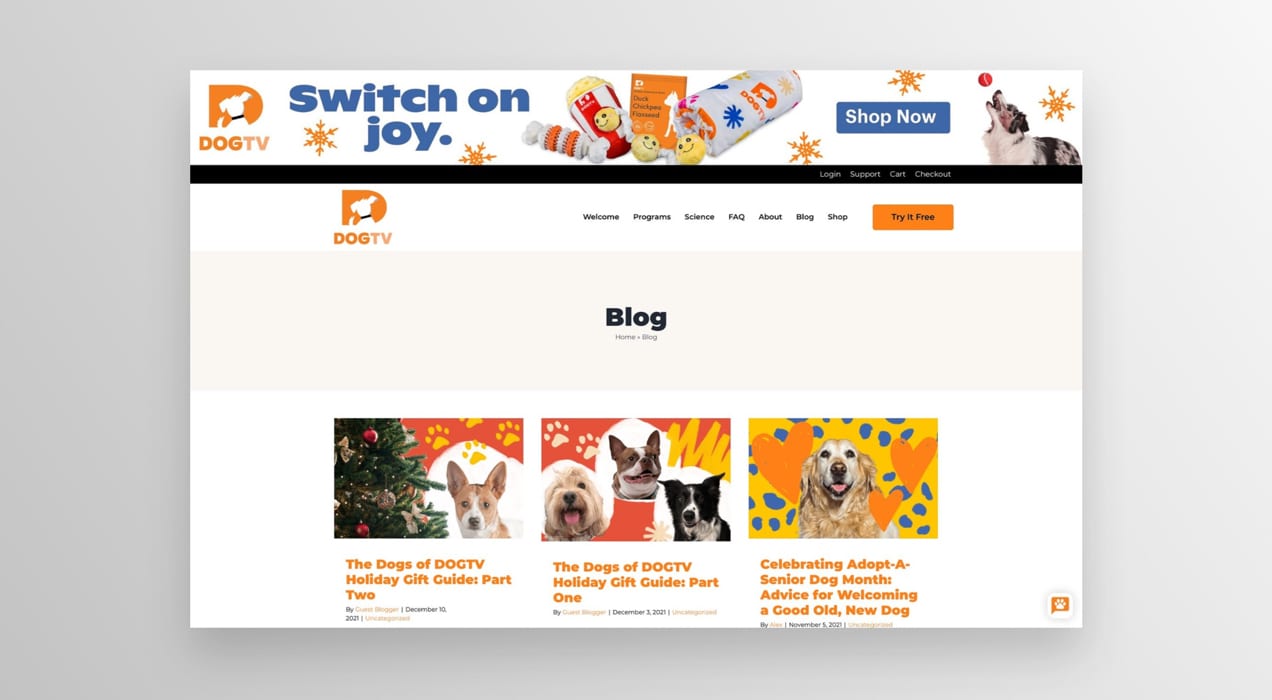 DogTV has a strong social media presence on multiple platforms and an active online community that loves to hear tips and share stories about their furry friends. Their WordPress blog is a great place for them to gather information and create articles of value to their loyal followers, but it also provides a resource for their social media groups.
How do you check it
Ready to start blogging? If you are using WooCommerce, you are already most of the way! WooCommerce with WordPress offers a free integrated blogging platform that integrates perfectly with any store. Here's what you need to do:
Create a new blank page. Call it a "blog" (or "news" or "stories" or whatever you like).
In the WordPress dashboard, go to Settings → Reading. Select your new page in the dropdown menu next to Posts page. Click the blue button Saving changes button at the bottom.
Then start creating posts! You can do this by going to Publish → Add New. Next, add content like text, images, and videos using the same block editor you used for your site pages. Make sure to add a featured image if you want an image to appear in your blog feed.
Add your new page to your main menu. go to Appearance → Menus And find the basic menu. Check the box next to your page in the list on the left, then click Add to list. Finally, press the blue button Save the list button.
That's all you have to do! Do you want more details? Check out the WordPress documentation on using the block editor.
Tips for a successful blog
Here are some tips to help you get off to a successful start:
Keep a list of ideas for the types of posts to write. Write it down right away as you think about it. Identifying ideas is often more difficult than writing the posts themselves, so this will help you avoid the blocker.
Settle on three to five major categories when getting started. You can then categorize each post based on the category(s) it falls under. Categories help users sort posts by interests and help you build enough credibility about a particular topic to get the attention of search engines.
Use a lot of images in your posts. This keeps people engaged and gives you another chance to tell search engines what your post is about by categorizing it with appropriate alt text.
Get a pen (or keyboard)!
It's time to start writing. Don't worry about being perfect. Share your experience, what you are passionate about, and what I was want to read. Be helpful and fun and avoid being a salesperson.
Keep it light, focus on things about your products and services (or things that people who use your products and services enjoy), stay consistent, and you'll find your audience!
Blogging is a low-cost way to find more clients. If you have the desire, you can attract more business! Start today.